Who do you want to follow: Princess OR Star? It's the most amazing news that Anne Hathaway AND Natalie Portman got married, and they are so beautiful and happy at their big days, which make us also want to get marry soon if you are single, yes, do you agree with me that? Anne Hathaway and Natalie Portman have romantic love stories and finally walked down in romantic wedding dresses, then open their romantic marriages. Bless happy their forever life. Girl, when it comes your wedding, and who do you want to follow? Below show you the top 10 celebrities' beautiful wedding gowns, if you have one perfect wedding gown, tell me your romantic story.
Queen Elizabeth II's Royal Wedding Gown
This oldie but goodie was designed by Norman Hartnell, using only the finest material.. and a lot of pearls. With food and clothing still being rationed in postwar Britain, royal dressmaker Norman Hartnell sought to convey a message of national renewal, instead of focusing on opulent materials. He did this in part by embroidering the gown with garlands of spring flowers.
Princess Grace of Monaco's Wedding Dress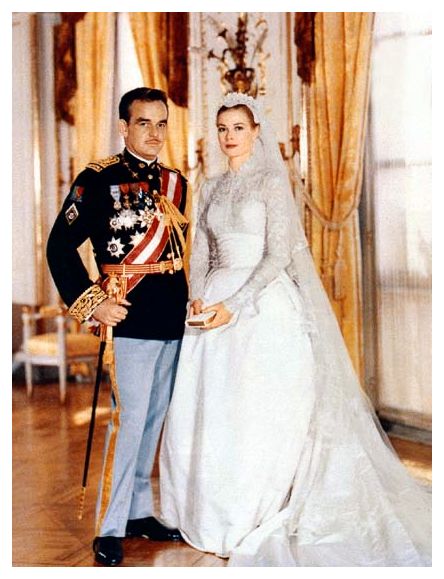 Princess Grace, the American actress turned princess wore a floor-length gown designed by a wardrobe designer from MGM, made with antique Valenciennes rose point lace.
Princess Diana of Wales's Wedding Gown
Diana wowed the world as she walked down the aisle in an Elizabeth and David Emanuel design. Her puffy-sleeved gown was made of silk taffeta and decorated with intricate lace, hand-stitched embroidery, sequins, and thousands of pearls. And who can forget the 25-foot long train.
Princess of Morocco Charlene Wittstock: collar Satin Wedding Dress
Satin wedding dress with Princess of Morocco Charlene Wittstock white soft skin," collar" of the profile of attention will be on show bride, smooth shoulder line and sexy collarbone.
Princess Marie Arasa Morelli Wedding Dress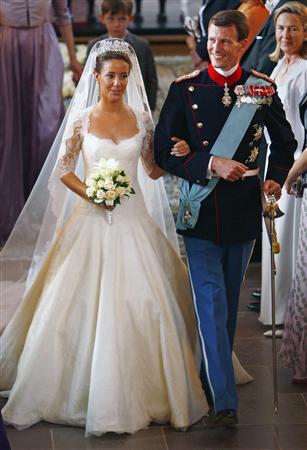 The most recent royal wedding of note was Princess Marie of Denmark, who married Prince Joachim in May 2008. Already super modern, Maria's wedding gown was designed by Spanish-Italian fashion house Arasa Morelli.
Princess Máxima Valentino Gown
In 2002, this Argentinean banker said, "I do" to Prince Willem-Alexander of the Netherlands. She was radiant in a stunning ivory silk Valentino gown with a 16.4 foot lace train.
Princess Kate Middleton Vintage Lace Wedding Gown
Lace wedding dresses are really hot in our modern society. Did you admire the holy royal wedding of Prince William and Kate Middleton on April 29, 2011? Do you love Kate Middleton's gorgeous royal wedding gown? This gown had lace on the bodice and skirt, but it was the sheer lace sleeves that left people gasping. Without a doubt, long lace sleeves are now the hottest wedding trend going. Lace wedding dresses have enchanting and delicate motifs. These exquisite creations are feminine and light-weight and create memorable and wonderful moments for the brides.
Star Katie Holmes Armani Off-the-shoulder Bridal Gown
Katie Holmes wore a fitted Armani off-the-shoulder bridal gown with a train in ivory silk cadis adorned in Valenciennes lace and Swarovski beaded crystal embroidery, featuring a delicate crinoline frill at the shoulders and a silk soleil border around the hem. The gown was complemented by an ivory tulle floor length veil and ivory silk shoes.
Star Anne Hathaway Gorgeous Tulle Wedding Gown
Anne Hathaway to look this gorgeous even out of focus — the gown features a gauzy, tulle overskirt and an elegant off-the-shoulder-neckline fashioned from the same fabric.
Star Natalie Portman Knee-length Pretty Wedding Gown
Natalie looked elegant wearing a white dress that is simple yet elegant. Natalie could not stop smiling after undergoing the Jewish wedding ceremony. Happy smile tugging at her lips, she did not stop dancing with her husband, Benjamin Millepied.
Her dress was amazing, not too flashy or excessive. Put on She's very pretty dress, she always has a hippie theme, whatever she does," said one of the invited guests, as quoted Dailymail.