Wedding is the most important romantic moment for any woman, compared with choosing the right man as your life-time husband, choosing the perfect wedding dress for your dream wedding is also the big event. There are various blogs and articles that will tell you about how to choose and how to shop or how to make the right decision for your bid day wedding gown, while here I would like to share my opinions about the materials about wedding dresses and then you will know what type and fabric dress that you love the most. After all, we are doing the one thing, and trying our best help you find the one belongs to you which makes you shining and beautiful at the whole wedding day.

Different styles wedding gowns normal are made in different materials. Of course when we go to a wedding shop or search online, the salesperson always promotes their popular product in their shop. But do you know clear that your gown made in what? Do you know what that fabric touch feeling? In fact, usually the popular wedding dresses are beautiful and attractive, in a fashionable shape and really do good-looks, but dear do you really don't care about the feeling dressing the gown on your big day ? Surely, I know, you won't, so we must learn that and choose the best one suitable us.
Below are the most popular materials details of wedding dresses, now we should know them right now.


Silk: The most expensive but most wanted fabric for wedding gowns is silk. Silk is smooth and feels great next to the skin. It is soft to the touch and shines when you wear it. The climate will not affect you when you wear silk as it is lightweight and breathable. These are great benefits as you can wear the dress without fear of breaking out in sweat or getting tired from carrying the dress around. Some of the drawbacks include pricing and snagging. It is one of the most expensive materials and will easily snag if caught on the wrong surface.

Lace: We all know that the best lace is the French lace. The high quality lace is very soft and has a nice touch feeling. A lace wedding dress does not wrinkle and you can choose from thousands of different patterns. They are mainly made from cotton so they are breathable and are also very affordable. Lace wedding dresses have the same problem as silk as they will snag easily. However, they give you the most choices of styles as you can choose needle lace, bobbin lace, or crocheted lace.
Satin: High quality satin will be very heavy and with a nice touch. Satin fabric is best used for made the modern type mermaid wedding gown because of it's easy to model mermaid shape. The poor quality satin will display the steel mark of the dress. And another important notice is pay attention to the luster of your satin wedding dress. High quality satin has a gentle luster which likes milk. While some poor quality satin won't be gentle lustrous and nice touch.

Taffeta: The feature of taffeta is fit and slickness, and it's easy to printing or made with shadow pattern design, taffeta wedding gowns are suitable to wear in summer and fall.
Organza: Normal organza has a dim moonlight. And the key to choose the better organza is that the yarn need to be soft and has a skin clear like baby. The most important is that the yarn should not have a dazzling light.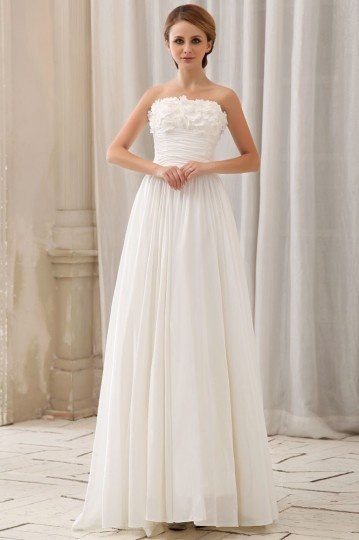 Chiffon: At present chiffon is very popular in making wedding dress. Chiffon is the lightest of all materials and your dress has a floating appearance as you walk. It is commonly made from natural silk fibers and is recommended if you are in a hot region or planning on getting married during the hotter months of the year. The one main drawback of chiffon is that it is one of the most delicate of the materials and tends to fray easily. If you do choose a chiffon dress, you will need to be extremely careful when wearing it.
In addition: the beautiful and high quality wedding dresses online or in store can be made by best materials. But for the sight of economical it is unnecessary. For example a wedding dress which is made by yarn need not to choose the best pure silk, a good satin can replace it. But if the yarn you want to put outside needs to be good quality. Another tip is that is the lace is used to decorate the whole wedding dress, so it is unnecessary to choose the best lace.